More than Starting Gates
When you choose Steriline for your horse racing needs, you know you are getting the best. However, did you know that Steriline Racing does not just specialise in starting gates?
Our gates are used in more than 50 countries across the globe including in Asia, Europe and the Middle East, and many of the world's most prestigious horse races are started by Steriline starting gates, including the Dubai World Cup, the Melbourne Cup, England's Epsom Derby and the Kentucky Derby in the US.
However, we are also a world-class manufacturer and supplier of a wide variety of horse racing products and racetrack solutions. Just some of the other equipment and products we can help you with are:
Winning posts
A unique finish to your racetrack can generate revenue for your club, increasing premium sponsorship and advertising opportunities. Steriline's winning posts can really help you to finish ahead of the rest.
Winning posts need to do more than look good. When you choose Steriline for your winning posts, you can be assured of reliability, structural integrity and longevity.
Just one example of an innovative winning post we designed, engineered and manufactured for a client is the below hydraulically-operated fold-down winning post.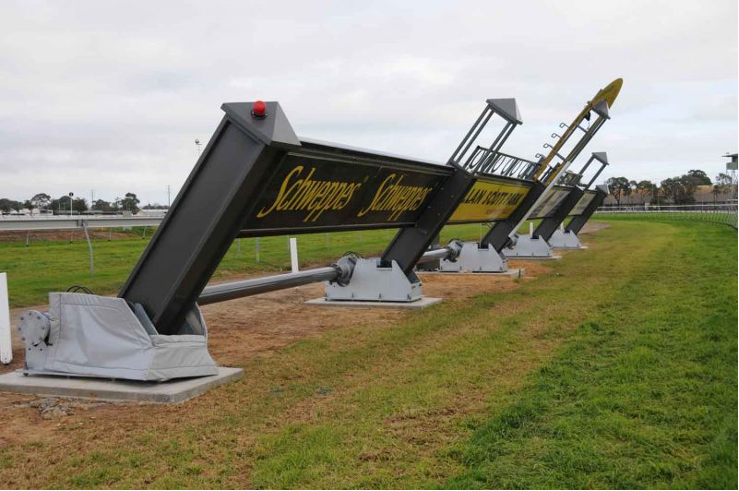 Fencing
Does your racetrack use the latest innovations in fencing, and is it as safe as it could be? Steriline Racing can work with you on the design, manufacture and installation of fencing for saddling and mounting enclosures, parade rings, walkways and track perimeters. To ensure the safety of your horses, jockeys and handlers, all our fencing is designed with smooth, rounded surfaces and concealed fixings. We can provide aluminium, steel or PVC plastic fencing, dependent on your specific requirements.
Some examples of our fencing projects include:
A warm-up and cool-down trail, Penfold Park, for the Hong Kong Jockey Club
The Birdcage at Melbourne's Flemington Racecourse
The parade ring at Brisbane Racing Club's Eagle Farm and Doomben racecourses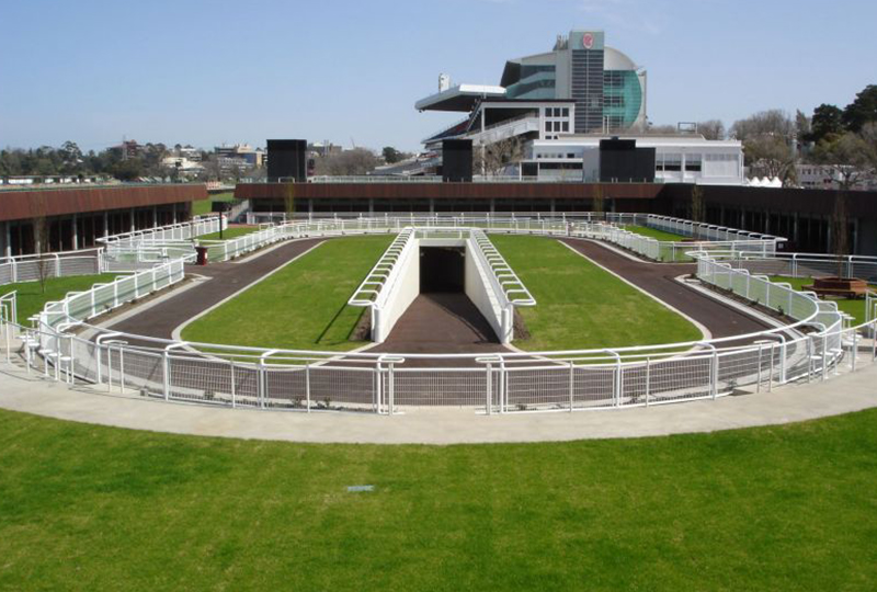 Running rails
The choice of running rail you use is so important, and we can work with you to help with a tailored solution for your racetrack. Old, outdated running rail designs have been known to increase the chance of injury to horses and jockeys in the event of an impact.
We are focused on providing the safest running rail in the industry, which is also simple and fast to install, remains straight with no sagging, has low maintenance costs, and can be fixed or moveable. We can provide steel or plastic running rail, suitable for use on all racetracks and for use in all weather conditions.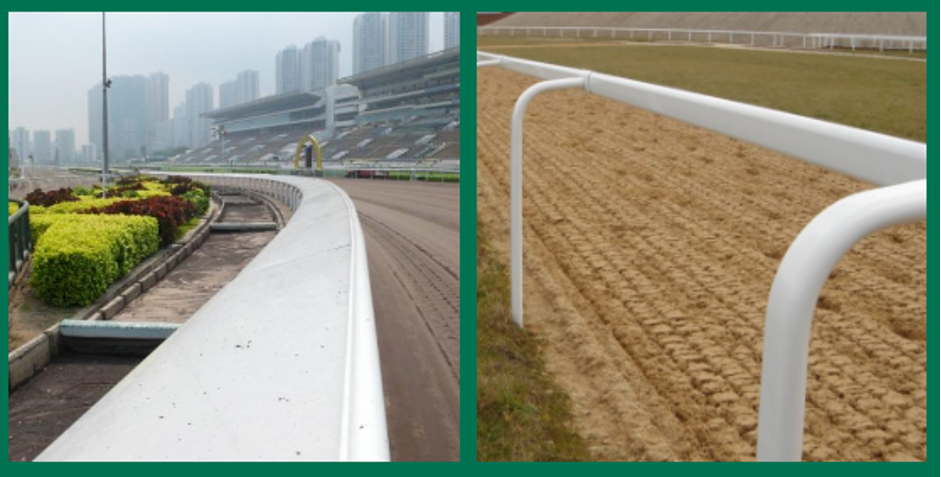 Towers
Towers provide optimum visibility for stewards and video camera operators on your racetrack. Steriline's towers are manufactured with a fully galvanised framework and are stable and durable to withstand all conditions, including wind loadings to cyclonic levels.
Steriline's standard 9-metre horse racing tower (pictured below) has been installed at racecourses all throughout country Victoria. If a custom-designed tower is required, the heritage-style clock tower at Flemington Racecourse, and the award-winning stewards' tower at Randwick, also both pictured, are both Steriline innovations.

Custom products
Our clients from across the globe often turn to us to provide custom products to their individual specifications and requirements. We have a long history of working in the horse racing industry, and we understand horse behaviour and track conditions. At Steriline, we specialise in providing products suited to our client's individual needs.
Some examples of the types of custom products we have created for our clients are fold-down signage, mobile presentation platforms, heavy-duty boom gates and custom design fencing. We relish the opportunity to work on innovative, custom designs.
Our culture of innovation and coming up with new-to-market ideas across all the horse racing products and equipment we provide means that when you work with us, your racetrack really does stand out from the crowd.
Let us help you
We relish the opportunity to discuss any upcoming projects with you. If you won't settle for anything but the best for your racetrack, contact the experts at Steriline Racing to discuss how we can help you with starting gates or training gates, winning posts, towers, fences, and running rails or any other custom horse racing products or racetrack equipment.