Three key aspects of Stewards Towers
All racetrack operators know that Stewards Towers are an essential piece of a racecourse. They need to offer optimal visibility to ensure a fair race – and panoramic views for the all-important video footage that is going to showcase your track.
Steriline's Stewards Towers have been designed to offer you the very best in terms of safety, as well as providing an unrivalled presentation of your racetrack and eye-catching tower design. These are the three key aspects you should keep in mind for your Stewards Towers.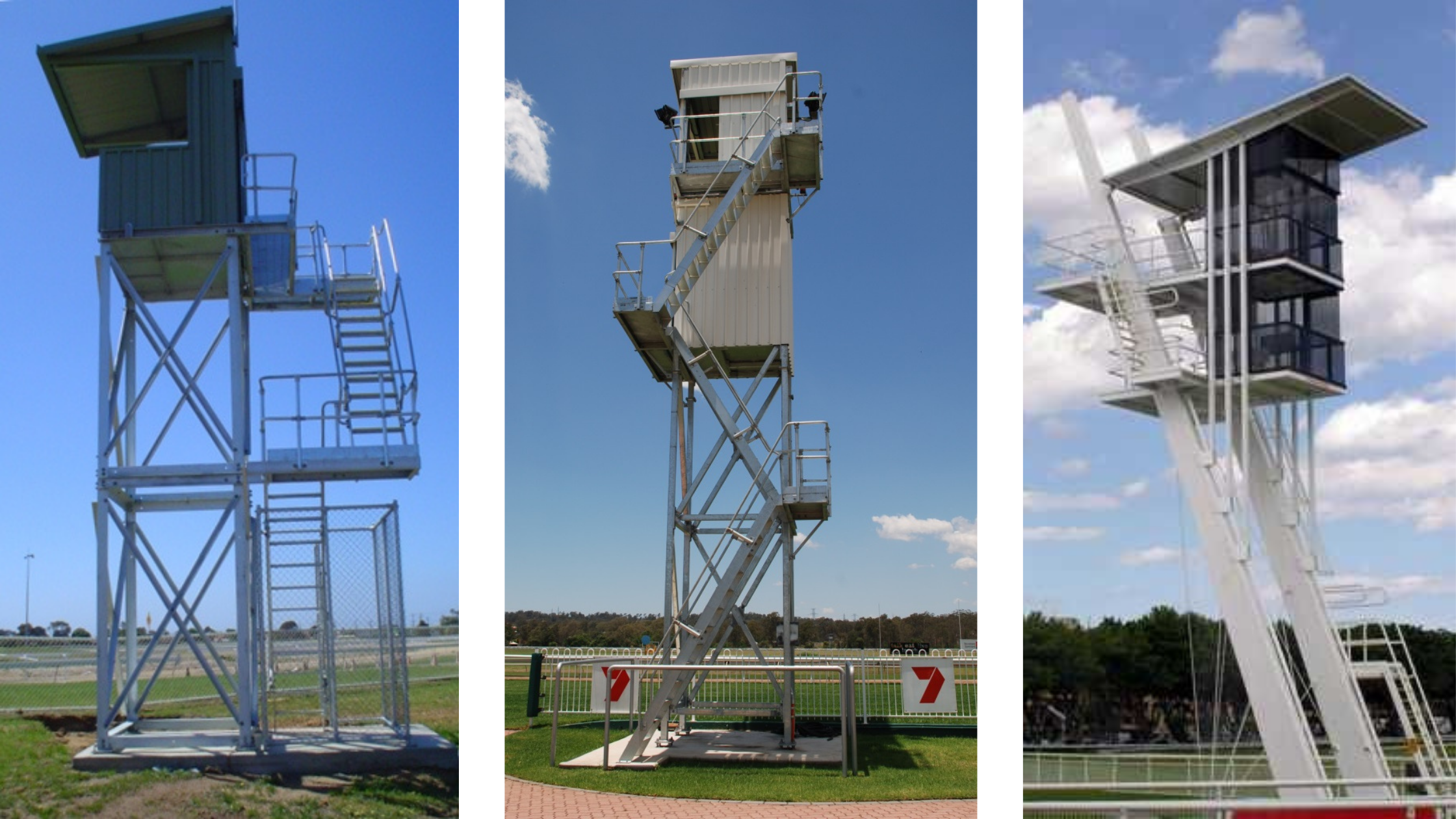 | | | |
| --- | --- | --- |
| Steriline's standard design stewards tower with lockout fence | A custom-designed twin cabin stewards tower in Ipswich, Queensland | A prestige bespoke designed tower for Randwick Racecourse |
1. Safety
Towers generally range from 3 to 12 metres above the ground. For anyone working at height, safety must be the number one priority. At Steriline, safety is always the most important consideration when it comes to the design, manufacture, and installation of towers. Open stairs at height always pose a safety hazard – so all of Steriline's ladders at height are equipped with safety ladder cages to prevent falls, and all platforms are encased within suitably designed safety handrails. All Steriline towers are built to Australian Standards AS 1657-2013 for Fixed platforms, walkways, stairways and ladders, so you know you are getting a compliant product. Stewards and camera operators also tell us the Steriline towers have great step visibility and grip safety, thanks to the yellow nosing on each step.
Towers should be equipped with independently certified lightning protection equipment. With global climate change and harsh Australian conditions, protecting your staff while continuing to race in all conditions is paramount.
Find out more about tower safety features here.
| | | |
| --- | --- | --- |
| | | |
| Safety handrail | Safety ladder cages | Yellow nosing on stairs |
2. Optimal presentation of your racetrack
We all know that towers are essential for stewards to ensure that a race is run fairly, though it is the video footage taken from the towers that really allows you to showcase your racetrack to the world. Those panoramic views of your track just cannot be beaten.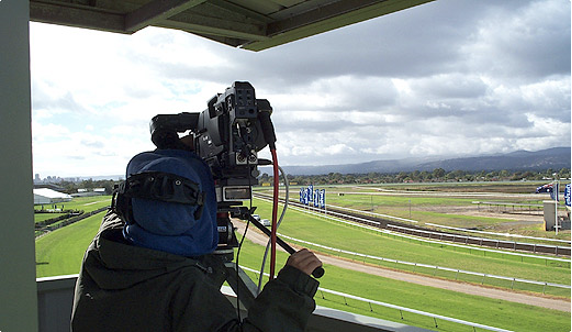 A camera operator filming sweeping racetrack views
Steriline's Steward Towers have unbeatable features for video camera operators and are designed to bring out the best in your racetrack. Features include:
substantial floor space for the operators to easily move their equipment within;
panoramic unobstructed views of your racetrack, allowing a wide variety of camera angles;
a specially designed hoist for the video camera equipment (optional); and
a pedestal or mounting bracket in the tower cabin (optional).


Steriline's Steward Towers are also fitted with gutters to ensure that the sweeping views of your racetrack are not interrupted by rain in the event of poor weather.
3. Towers are a key feature of your Track
Towers need not just be functional. They can also be a striking addition to your racetrack as they are an element of your racetrack that is hard to miss. So why not make your tower a feature? Steriline offers a variety of cabin cladding colours and can custom design a tower that suits the look you are after.
Steriline designed and manufactured the iconic heritage-style clock tower at Melbourne's Flemington Racecourse. They also manufactured the architecturally designed, award-winning Stewards Tower at Royal Randwick. It is not just the towers for the larger racetracks that can be custom-designed – Steriline created a robust Stewards Tower design used for the country tracks in Victoria and has manufactured smaller observation boxes for training tracks. No matter how big or small your racetrack is, the team at Steriline can design something that will enhance your track.
| | |
| --- | --- |
| | |
| Steriline designed and manufactured the heritage-style clock tower at Melbourne's Flemington Racecourse | Steriline manufactured observation box |
With more than 24 years of experience designing, manufacturing and installing Stewards Towers, you can rely on Steriline to deliver the very best Stewards Tower for your racetrack. Contact the racetrack specialists at Steriline to discuss your options.
View spare parts here | Click here to book a service