Top 4 reasons to use Steriline's Safechase™ Dog Racing Lure System
Modern dog racing is a competitive sport for greyhounds, or similar dog breeds, in which the dog chases a mechanically operated lure around or along a sand or grass track of between 300 and 650 metres in length. Dog racing aims to demonstrate and preserve the abilities for which greyhounds were originally bred.
What is a greyhound racing lure?
A race cannot be run without a lure! The lure is the item that the dogs chase – in track racing it has traditionally comprised of a carriage usually covered in fabric or fur, that is mounted to a steel cable. But there is now a safer, cheaper, better alternative for your racetrack.
What is the Safechase™ Greyhound Racing Lure System?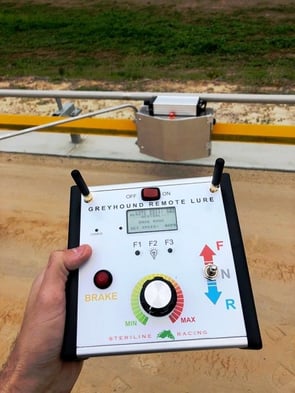 A new state-of-the-art, battery-powered, remote-controlled dog racing lure has been specifically designed for greyhound track racing. This new Lure System has been designed in a partnership between Steriline Racing and Covey Engineering, who have been working together for nearly 20 years to provide safe, reliable, high-quality products to the greyhound racing industry not only in Australia but around the world.

Their revolutionary, Australian-designed and manufactured Safechase™ Greyhound Racing Lure System is a self-contained machine that has no other infrastructure except for the rail that it runs along. It is a remotely controlled electric vehicle powered by modern rechargeable lithium-ion battery technology. This clean and modern new Lure System will save your racetrack costs, increase the safety of both animals and people on your track, and reduce your energy use. Once you've seen it operating, you will never look back.
Top 4 reasons to switch to Safechase™



1. Cost savings
Less chance of revenue loss. Countless savings based around revenue loss due to failures. Your track will be supplied with two Safechase™ Greyhound Lures and they are interchangeable in a matter of minutes if needed.
Less track length is required. Less track length = less capital required for straight tracks due to the minimal run-up required for acceleration and braking.
Lower operating costs. Trials have found that operating costs should reduce by 50% over a five-year period.
2. Lower maintenance requirements
Longevity. Robust design to handle the varied Australian climatic conditions and exposure to rain and sand kicked up by racing greyhounds.
Lower maintenance costs. A reduction of up to 50% in maintenance costs over 5 years is estimated during trials.
3. Increased safety
No live electric contact systems = no chance of a 70km/hr cable failure at the perimeter of the track means increased safety for both animals and people working on the track.
Hydraulic emergency brake. In the case of an emergency, a remote-controlled hydraulic emergency brake with an adjustable braking force is capable of safely stopping the lure from race speed (66km/h) in less than 30 metres.
4. Reduced energy use and cost
Lower running costs. The Safechase™ Greyhound Racing Lure System uses approximately 87% less energy than the cable system. This saves on running costs and delivers a reduced carbon footprint.
Long-life batteries. The advanced lightweight high-capacity lithium battery pack can safely complete up to 50 races (32km) with approximately 30% battery life remaining – and completely recharge in less than 3.5 hours.
No track contamination. Clean operation with no rail or track contamination (grease).


Watch here: our video of the Safechase™ Greyhound Racing Lure System in action.
Now picture this at your racetrack!
In addition to the above video, Greyhound Racing NSW recently opened the Richmond Straight. As mentioned in the video, the eyes of the world are watching with the safety of the dogs being forefront of mind, see our products strongly featured in this clip. Watch here: Greyhound Racing NSW, opens Richmond straight
Contact the experts at Steriline Racing to find out more about our Safechase™ Greyhound Racing Lure System, and how it can make a big difference to your track.