Steriline wins austcham australia china business award
Steriline Racing is pleased to announce their award win for the 2019 AustCham Westpac Australia-China Business Awards (ACBAs). Hosted by the Australian Chamber of Commerce in Hong Kong, the 2019 winners were announced at the prestigious Westpac AustCham Australia-China Business Awards Gala Dinner at the Grand Hyatt in Hong Kong. The awards recognise businesses who demonstrated Australia China business excellence.
Steriline Racing was ecstatic to be awarded the Small to Medium Enterprises award. This award recognises an Australian or Chinese company with less than 20 employees, that has performed with excellence and achieved outstanding results in Australia and/or Greater China over the past year.
Steriline Racing have vast experience exporting their Starting Gates, rails, winning posts and other high-quality products into China over the past 20 years. More recently, Steriline has worked with both the Hong Kong Jockey Club and the Conghua Racecourse in Guangzhou to develop innovative racing solutions that keep both the jockey and horse safe.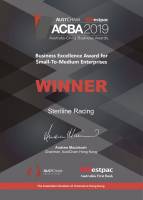 Being a market leader in the racing industry, Steriline Racing brings a wealth of knowledge and experience to their clients, which is vital to success when dealing with China. The trust that the Hong Kong Jockey Club and the Conghua Racecourse in Guangzhou show in Steriline Racing pays testament to their continued innovation, high-quality customer service and superior products.
John Fargher, Managing Director of Steriline had the following to say after receiving the award:
"Steriline Racing also export to many other countries around the world but are especially keen to innovate within the industry. Right now, Hong Kong and the Hong Kong Jockey club are the world centre of that innovation and Steriline Racing are especially happy to be a part of such a progressive and innovative hub. To be recognised for our achievements within China is an incredible feeling, but that won't stop us from continuing to push boundaries in the industry."
When asked if he had any advice for others when conducting business in China, Mr Fargher said "Knowledge, expertise and innovation are all readily accepted. If you can demonstrate that you are the leader in your field, then you will be welcomed."
Steriline Racing is looking forward to continued innovation and excellence within their industry, with a focus on keeping both the jockey and the horse safe.
About Steriline
Steriline Racing specialises in the design, manufacture, installation and service of starting gates, running rail, winning posts, stewards towers and other racetrack equipment for the horse racing industry.
Steriline Racing has supplied racetrack equipment to hundreds of race clubs in Australia and has exported to more than fifty countries around the world including Asia, Europe, the Middle East and the Americas.
Steriline Racing's racetrack equipment is used by many major horse racing organisations including the Hong Kong Jockey Club (Happy Valley and Sha Tin Racecourses), Singapore Turf Club (Kranji Racecourse), Victoria Racing Club (Flemington Racecourse), Australian Turf Club (Royal Randwick Racecourse), Meydan in Dubai, Royal Ascot in the United Kingdom, and Riyadh Equestrian Club in Saudi Arabia.
Steriline Racing's excellence as an Australian export company was recognised in 2015 when the company was awarded the South Australian Regional Exporter Award. The company has been a finalist for the Australian Export Awards numerous times throughout their decades of exporting.