Scholarship winner completes trip to 3 countries
A delighted scholarship recipient, Tony Salisbury of Moonee Valley, has just returned from the trip of a lifetime.
Tony Salisbury, the Assistant Racecourse Manager for the Moonee Valley Racing Club, was awarded the scholarship at the Australian Racecourse Manager's Conference held at the Perth Racing Club in August.
He embarked on the journey last month to Singapore, Hong Kong and China, for a scholarship experience never offered before. First stop for the trip was the Singapore Turf Club, where Tony visited for a week, viewing all the facilities and operations.
After the experience in Singapore Tony continued the journey onto Hong Kong where he had a full week, visiting Shatin racecourse in Hong Kong then on to Conghua in China and back to Happy Valley in Hong Kong. Needless to say, he was kept busy.
When asked about his visit to Hong Kong and a prominent memory, Tony commented;
"I was able to see the veterinary clinic and science labs, which to my surprise was something that even my host companion from the Hong Kong Jockey Club had not had the privilege of seeing. It just shows what a wonderful opportunity this scholarship is, being able to see and experience things that are unique and not open to every visitor."
Tony is the only Scholarship recipient to visit Conghua Racecourse since it opened in August 2018, and he would be one of the first few visitors, with the ARMA tour visiting next year.
Managing Director of Steriline Racing, John Fargher, who has visited Conghua Racecourse many times through the development and opening, commented on this rare opportunity for the scholarship recipient,
"Viewing such a state of the art facility, is incredibly eye opening and definitely a privilege."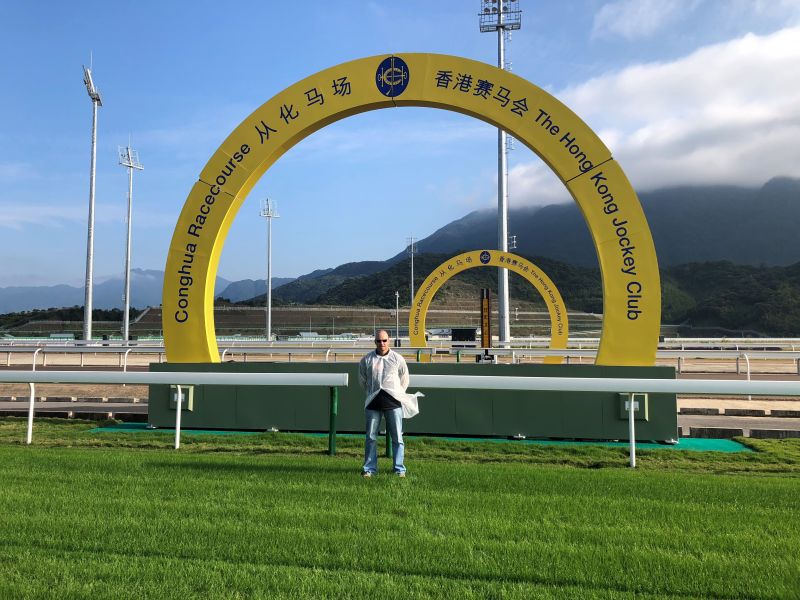 Reporting on his experience at Conghua, Tony commented,
"this is a Disneyland for horses."
Tony had a real appreciation for the training facilities, having the background knowledge in the industry and also having his own horses, it was evident how large the facility was and that everything was state of the art.
"there is a sense of pride and humility as you are guided around this paradise for thoroughbreds ….. In addition to this equine paradise, is an exceptional staff. This experience was made more enjoyable by the staff who were friendly, informative, and displayed a great deal of pride in what they have achieved. The level of knowledge is exceptional, and the willingness to share more so."
His passion and dedication and knowledge showed during his trip, with the clubs commenting that they too were able to learn from Tony with his vast knowledge of turf.