Safety first at the 146th Kentucky Derby
PRESS RELEASE
The 146th Kentucky Derby at Churchill Downs on 5 September 2020 will be remembered for being unique. For the first time in its illustrious history, the race will be run with no spectators, and will use a new custom-made starting gate from Australia's Steriline Racing.
Steriline is the Global Leader in racetrack solutions, and hasn't gotten there by chance. Their understanding of the huge variations between racecourses globally, and their commitment to providing custom-made solutions, sets them apart. Steriline has supplied starting gates to racetracks in more than 50 countries across the globe including in Asia, Europe and the Middle East.
Steriline has operated in the US for more than 20 years, providing running rails in the west, including in California, Oregon and New Mexico, so they are not new to the US racing scene.
Many of the world's most prestigious horse races are run using Steriline's starting gates, including the Dubai World Cup, Sydney's Everest, the Melbourne Cup and England's Epsom Derby. Steriline's gates are used exclusively by the Hong Kong Jockey Club and the UK's Royal Ascot, and in fact all racetracks in the UK use Steriline starting gates.
The iconic Kentucky Derby has run for the past 54 years with two starting gates – a standard 14 horse gate alongside an auxiliary gate for the additional 6 horses, as illustrated below.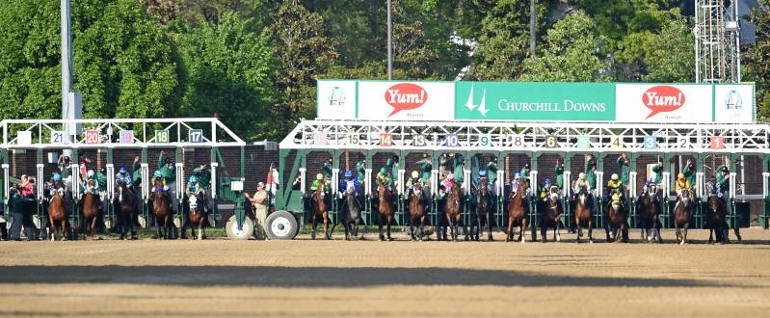 Steriline has custom-built a new 20 stall starting gate to suit Churchill Downs' requirements. The new gate eliminates the gap between the standard gate and auxiliary gate, reducing the likelihood of bumping between horses from post positions 14 and 15 and improving the breakaway space between post 1 and the rail. This single gate is much narrower than the combined two-gate system, but the actual space within each stall is wider. It really is a win-win.

Safety was the main driver for Churchill Downs to look for a new starting gate solution. "We believe this new gate will improve safety for both horses and riders" said Mike Ziegler, Executive Director of Racing for Churchill Downs.
John Fargher, Steriline's Managing Director, is committed to animal welfare and safety, and is also involved with the International Conference for the Health, Safety and Welfare of Jockeys. With safety a major issue on today's racetracks, reducing the number and severity of starting stall injuries to jockeys, handlers and horses is paramount. Steriline is committed to driving these numbers down.
Steriline has achieved the world's widest gate entry for safer and easier loading for both horse and jockey. Champion Jockey, Darren Beadman said the gates "have a funnel effect, it is more inviting for a horse to go in" while Tony McGovern, Hong Kong Jockey Club Starter said they "are definitely faster to load, quieter and safer".
Steriline's world-leading gates also use high density, custom moulded safety padding enclosing all metal surfaces. The Steriline padding, independently tested by Bridgestone Laboratory, is significantly more effective at absorbing impact.
"Meeting with our clients is crucial" said John Fargher. "We don't produce a standard product. Each of our gates is tailored to the particular racetrack and conditions". The relationship with Churchill Downs started in 2019 when John travelled to England's York Racecourse to meet their team so they could inspect and analyse the 22 stall gate in operation. A few months later, John travelled to the Churchill Downs Racetrack to meet the team again, see their track and understand exactly what was required.
Fast forward to now, and a purpose-built Steriline starting gate is about to take centre stage at the Kentucky Derby for the first time. If Steriline's track record is anything to go by, they will pass this first test with flying colours.
For more information please contact us.