Success at the Kentucky Derby 2020
Steriline is so proud to have started the 146th Woodford Reserve 2020 Kentucky Derby with our 20-stall Starting Gate. It was a great success and we are grateful for the opportunity to help improve the safety and fairness of the major race at Churchill Downs on Saturday the 5th of September 2020.
The race, although run without a crowd, was widely celebrated as a great victory on the international horse racing stage for its ability to adapt to new race conditions, including the development of track performance using the singular Steriline Starting Gate compared to previous years that have utilised multiple gates joined together.
The new 65 feet 20-stall starting gate which fits comfortably on the 120-foot track, eliminated the gap between the standard gate and auxiliary gate, reducing the likelihood of bumping between horses from post positions 14 and 15 and improving the breakaway space between post 1 and the rail. This single gate is more narrow than the combined two-gate system, and the actual space for the horse within each stall is wider.
Click here to watch Kentucky Derby 2020 ends with a massive up
Video Credit: NBC Sport - Kentucky Derby 2020 ends with massive upset (FULL RACE)
A big congratulations to Authentic, his jockey John Velazquez with his third Kentucky Derby win with their trainer Bob Baffert. It was a very exciting race for all participants with a close win over Tiz The Law for the 8-1 odds victor finishing the 2.01-kilometre race in just 2.00.61. Trainer Bob Baffert tying the all-time record for most Kentucky Derby victories, with wins in 3 out of the last 6 years.
All participants in this year's race were safely released from each of their stalls with meticulous consistency.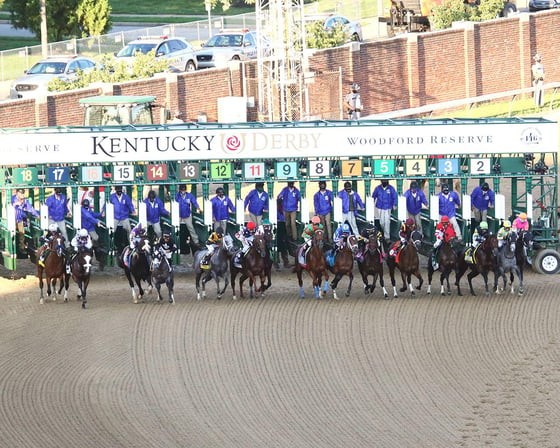 Our aim is to find the best equipment for your racetrack by understanding your track's needs in order to work with you in an ongoing partnership for years to come.
Understanding the key elements that ensure safety and longevity in your gates can be the key difference in your success on race day. Should you wish to request a quote for a starting gate, or if you have any questions relating to your existing gate or any of our racetrack products please contact us.
Find out more by reading Choosing your Best Starting Gate Solution here